Chinese property heavyweight muscles in on land development
Chinese property heavyweight muscles in on land development
Australia, Melbourne
Chinese property heavyweight Dahua Group has outmuscled local developers to snap up a billion-dollar land pipeline in a buying spree that has handed a wealthy family, a syndicate of landowners and two young property players a $347 million windfall.
Dahua Group's purchase of three large land parcels in Point Cook in Melbourne's west for $347 million mirrors a year-long buying spree in Sydney's south-west that had the Shanghai-based group spend more than $400 million on a three growth area sites in Bardia and Menangle Park.
Melbourne has climbed its way into the world's top skyscraper cities, with more than 100 buildings over 100 metres.
The east coast land purchases, along with several city-based projects in Sydney and Melbourne, will catapult China's 310th richest man into one of the Australia's largest land developers with a potential pipeline of 8750 lots worth more than $2.5 billion.
Little is known about Dahua's Jin Huiming, who is ranked 310 on Forbes' China rich list. His company – previously a collective – is estimated to be worth about $1.1 billion and is among the country's top 50 developers.
The group acquired its largest Melbourne holding, a 103-hectare site at 50a Hacketts Road in Point Cook, from Wolfdene developers Michael Goldthorp and Heath Woodman for $190 million.
The deal values each land lot at about $105,000, a record for land in Melbourne's west.
Two other parcels, sites between 40 and 50 hectares in Point Cook and Aviation roads, were bought from a syndicate and a wealthy family for $75 million and $82 million respectively.
The land sits behind Point Cook's housing estates next to farmland and the RAAF William base.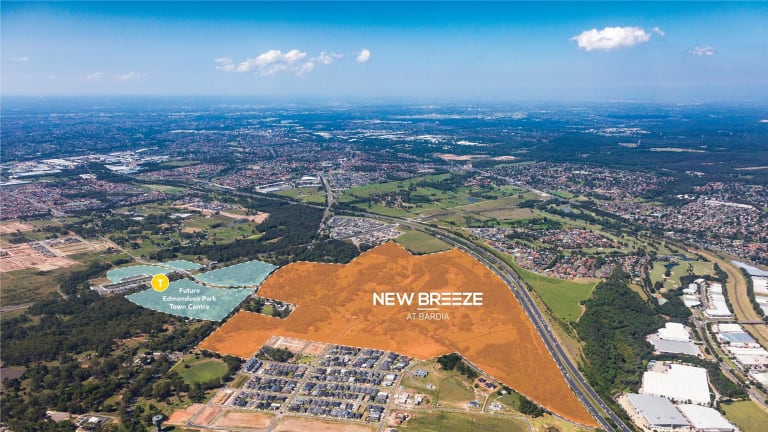 Biggin & Scott Land's Frank Nagle and Andrew Egan, who negotiated the deal, declined to comment.
Dahua announced in April it was pressing ahead with a large $1 billion master-planned housing estate to be called New Breeze – its first in Sydney – at Edmondson Park in Sydney's south-west.
Shortly after, in September, it snapped up another 134-hectare land parcel from Campbelltown City Council.
All three of its Sydney sites will make way for 4380 homes and a new town centre in Menangle Park.
No other Chinese real estate group has moved as rapidly into house and land development. Most concentrate their efforts in the apartment sector predominantly in Sydney and Melbourne.
A Dahua spokesman said the group had aspirations to be a major land developer. "It's where we're working towards," he said. "We believe the market is strong here."
Its latest purchases will propel Dahua into the major league of east coast greenfield land developers alongside Stockland, Satterley and Villawood Properties in terms of portfolio size.
All three of the Australian-owned groups were underbidders on the land.
The Melbourne projects will take at least six years to move through planning and development hurdles before being available to buyers as individual home sites.
The group's other projects include a two-hectare development on Sydney Water's Central Workshops site in inner-city Waterloo.
In Melbourne, development is underway on a 556-lot housing estate in Cranbourne West, south-east of the city, which it bought with support from retailer Woolworths, which will fund the town's commercial centre.
Another 56-hectare project called King's Leigh in Werribee will support 701 homes. Dahua is also due to complete a 91-apartment luxury development in South Yarra next year.
Source: https://www.smh.com.au/business/companies/chinese-property-heavyweight-muscles-in-on-land-development-20161206-gt4v2o.html