Double whammy slams Hong Kong developer stocks
Double whammy slams Hong Kong developer stocks
Australia
Hong Kong developer stocks have gone from being the top performers to the worst, slammed by home price curbs and the expectation of rate hikes following Donald Trump's win in the US presidential election.
Developers surged 11 per cent in the first 10 months of the year to rank as the best performers in that period and helped steer Hong Kong's benchmark index to its peak in September. That reversed in November as developers slumped 6.6 per cent, leading the pack of losers on the Hang Seng Index. Sun Hung Kai Properties and New World Development. are among stocks that plunged 10 per cent or more last month.
Hong Kong's property market, after weathering dramatic boom-and-bust cycles over the past two decades, is poised for a leg down as higher borrowing costs and additional levies deflate buyer demand. The city's currency peg to the greenback ensures that interest rates follow those of the US, where expectations of a rate increase have shot up since the election. Meanwhile, the city's leaders moved suddenly on November 4 to cool prices in the world's least affordable property market, raising stamp duties for all except first-time local buyers.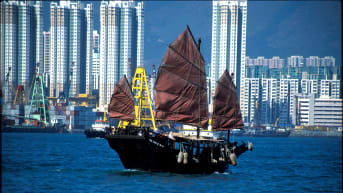 "We get a bit of a double whammy – on one hand the sales tax has increased, which will definitely curb some of the interest, and now interest rates are moving up," said Adrian Zuercher, head of Asia Pacific asset allocation in Hong Kong at UBS Group's wealth management unit. "We are cautious on the sector."
Property peak
Hong Kong's property market peaked in September 2015, before global economic uncertainty and slowing demand from mainland buyers sent prices down 13 per cent in a correction that lasted six months. The market rallied from its March low to inch back to near record levels in early November, when Hong Kong's Chief Executive Leung Chun-ying announced the latest measures.
Developers led losses on the Hang Seng Index on Thursday. Sino Land fell 3.4 per cent at the mid-day trading break in Hong Kong after surging during the closing auction on Wednesday, and Cheung Kong Property slid 1.5 per cent following a 2.2 per cent jump yesterday.
Hong Kong's one-month interbank offered rate rose for a seventh day to the highest level in more than six years. As many developers have used funding tied to Hibor in recent years, rising rates will increase their borrowing costs and reduce earnings, according to Bloomberg Intelligence.
Analysts are becoming less bullish on property stocks. The ratio of buy ratings on Sun Hung Kai hasn't been this low in more than two years, while the proportion of those that recommend selling Sino Land shares rose last month to the highest since 2014, according to data tracked by Bloomberg. Hong Kong developers will underperform the Hang Seng Index in the next six months, Bank of America Merrill Lynch said in November, while CIMB Securities Ltd. downgraded its rating on the sector.
Home transactions fell 70 per cent in November, the Hong Kong Economic Times reported. Louis Chan, chief executive of the residential unit of Centaline Property Agency, predicted when the curbs were announced that transactions might plunge by 60 per cent to 70 per cent, while home prices would decline as much 8 per cent over a three-month period.
Fed meeting
With about two weeks until the Fed meeting in December, concerns about rising borrowing costs are again at the forefront. The market-implied chance of an interest-rate increase this month has surged to 100 per cent compared with 84 per cent before Mr Trump's win. Speculation has grown that the Fed will be forced to raise rates faster than expected to contain inflation if Mr Trump follows through on a pledge to spend big on infrastructure.
A surge in US Treasury yields, sparked by Mr Trump's victory amid bets his policies will quicken inflation, has also eroded the appeal of Hong Kong's real estate investment trusts as their dividend returns look less enticing. The benchmark 10-year yields have soared the most in back-to-back months since the 2013 taper tantrum as investors shifted into assets such as stocks, which they expect to benefit should Mr Trump succeed in pushing through his proposals.
Shares of Hong Kong's five biggest developers by market value, including Sun Hung Kai, Cheung Kong Property Holdings and Wharf Holdings, dropped an average 7.5 per cent last month, compared with the 0.6 per cent decline for the Hang Seng Index.
Bright spot
One bright spot for developers may be the weakening yuan, which sank to an eight-year low against the dollar last month. Hong Kong will continue to look attractive for mainland investors trying to shift to foreign-denominated assets, countering the higher stamp duty, according to Natixis.
The recent declines in Hong Kong developers' shares are an opportunity to accumulate because the stamp duty will impact the secondary market more than developers, according to Daiwa Capital Markets Hong Kong. They're also relatively cheap compared to the broader market. The five biggest developers trade at an average 9.3 times reported earnings, almost 30 per cent less than the Hang Seng Index, according to data compiled by Bloomberg.
With instability in lucrative finance jobs and Hong Kong's high housing prices, property stocks need to fall further before they are attractive, according to Ben Surtees, a London-based fund manager at Jupiter Asset Management.
If developers with strong fundamentals decline further and become cheap enough, "I'll be prepared to assume that most of the negatives are already priced in – but they're not there at the moment," Surtees said.
Source: https://www.afr.com/news/world/asia/double-whammy-slams-hong-kong-developer-stocks-20161201-gt1vx2#ixzz4RZ5TzziN