Melbourne's most expensive 1-bedroom apartment lists for $1.8 million
Melbourne's most expensive 1-bedroom apartment lists for $1.8 million
Deep-pocketed buyers on the hunt for prestigious real estate in Melbourne could splash $2 million on a family home in Brighton — or they could sign the deed to a one-bedroom inner-city flat for around the same price.
Melbourne's most expensive one-bedroom apartment has hit the market, set to clock a price record if it sells near its guide of $1.8 million.
But for anyone shocked by such a pricetag hanging from a one-bedroom flat, it is worth noting the listing follows a Sydney one-bedder with just a sliding door to the bedroom – essentially a studio apartment – that was recently asking $2.1 million north of the border.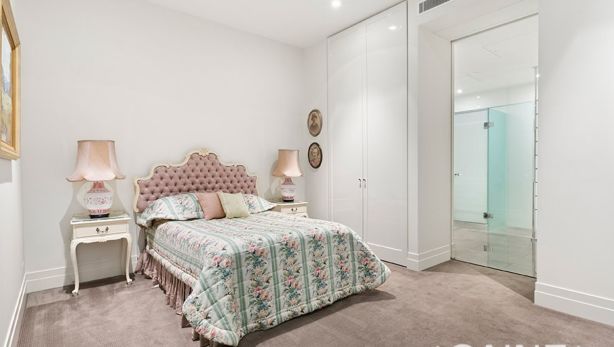 Found in East Melbourne's exclusive "tower of power", the 104-square metre one-bedder faces the historic Fitzroy Gardens. Agent Paul Caineof Caine Real Estate compared the listing to that of an apartment opposite Hyde Park in London or Central Park in New York.
Developed by Salta Property Group in 2009, the 12-level, 88-unit building at 150 Clarendon Street is considered Melbourne's most exclusive apartment block. Salta developer Sam Tarascio Senior owns the complex's $30-million plus penthouse, which has never been offered to the market and is often speculated to be Melbourne's most valuable flat.
The building, known to be home to celebrities, captains of industry and many of the city's top medical professionals, has seen record price deals before. This included an national record in 2008 for an off-the-plan apartment, sold for $18.2 million.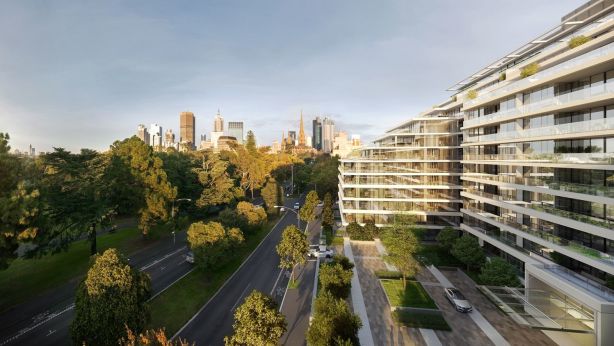 The building has 25-metre pool, gym, sauna, steam room, residents lounge, private theatre, wine tasting room and 24-hour concierge. It is understood residents can even enter through a private entrance to popular restaurant GG, which delivers food and wine to the residents' doors.
The one-bedroom apartment at 105/150 Clarendon Street was owned by a woman who had downsized from Toorak, Mr Cain said.
The present price record is believed to be held the apartment next door at 106/150 Clarendon Street, which Domain Group data shows traded for $1,675,000 in October 2015.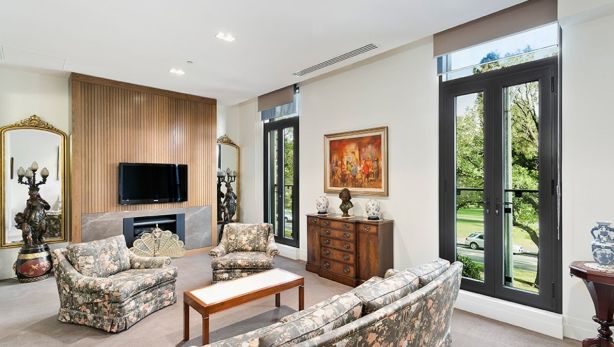 "It was very much cutting edge when it was built," Mr Cain said. "You wouldn't want to change much. Some may change the drapes — the lady who lived here was from the blue-ribbon set in Toorak."
Other downsizers looking to make a similar move from Melbourne's most prestigious postcodes had already shown interest, he said, as well as professionals who worked in the close-by hospitals.
Unlike Toorak and Kew, East Melbourne has been a triple-A suburb that has somewhat flown under the radar, although it is home to some of the most prestigious apartments in the city.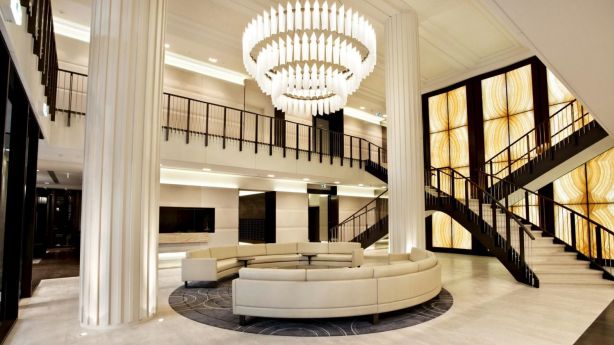 Mirvac's The Eastbourne included a $15 million-plus penthouse with an glass-sided pool and 50-metre balcony overlooking the gardens and Treasury on Spring Street. Potential buyers were picked up by a chauffeured Bentley, taking them to and from the imperial suite of the Sofitel to discuss a purchase.
Sales have also just commenced on exclusive 11-apartment complex George & Powlett, where buyers can customise their floorplans. Three-bedroom apartments have been sold for up to $5.3 million, while two-bedders are selling for about $3 to $4 million each. It will be completed in September 2018.
"As the first ultra-luxury apartment development with less than 12 residences to arrive in the East Melbourne market in 28 years, George and Powlett offers a truly rare purchasing opportunity in one of Melbourne's most exclusive suburbs, to acquire a world-class property" said Kay & Burton chairman Gerald Delany.
Source: https://www.domain.com.au/news/melbournes-most-expensive-one-bedroom-apartment-listed-for-18-million-20170526-gwdsik/