Singaporeans make big gain on Melbourne office tower
Singaporeans make big gain on Melbourne office tower
Australia, Melbourne
Singapore investor Straits Real Estate has sold a William Street tower in central Melbourne for around $170 million, after acquiring it only a year ago for $125 million.
The extraordinary deal, negotiated quietly off-market, adds more than a third to the value of the 26-storey tower at 114 William Street since its acquisition from Kyko Group last August.
The deal was brokered by Colliers International's Nick Rathgeber and Leigh Melbourne, who did not respond to requests for comment.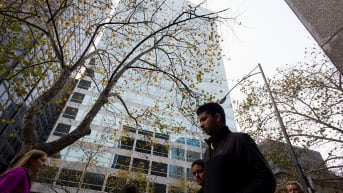 Straits Real Estate is a subsidiary of the Singapore-listed investment company Straits Trading Company. It acquired the property through a mandate to CorVal Partners, the specialist property fund manager established by former Multiplex chief executive Andrew Roberts.
The acquisition was the first for the Singaporeans in the Australian market. "We see a very significant opportunity to enhance the yield of the property through upgrading and repositioning the building," its chief executive Desmond Tang said last year.
CorVal is still involved in managing the asset, which has now been sold to another offshore player.
A year ago, when fully leased the asset's net passing income was a little more $9 million, giving plenty of scope for reworking the 21,000 square metre building.
At that level of income the latest transaction represents a yield around 5.3 per cent.
That is good news for ANZ, Lendlease and ExxonMobil, who are all in the market with major assets. Two St Kilda Road towers, owned by Singapore's International Healthway Corporation and now in receivership, are also on the market.
English: https://www.afr.com/real-estate/singaporeans-make-big-gain-on-melbourne-office-tower-20160921-grlbx0#ixzz4LKDdvtrr