Sydney, Melbourne property prices up another 5pc, CoreLogic says
Sydney, Melbourne property prices up another 5pc, CoreLogic says
Australia, Melbourne
In the first 15 days of spring, CoreLogic's home value index has risen 1.6 per cent and in Melbourne it is up 2.3 per cent.
Halfway into September, the data provider's daily home value index shows a 5.3 per cent quarter-on-quarter growth in Sydney home values – up from the 3.9 per cent at the end of August – and a 5.1 per cent quarterly increase in Melbourne, up from 3.4 per cent.
CoreLogic's figures as of September 14 also showed an improvement in Brisbane, Adelaide and Perth. The Queensland and SA capitals turned positive, while the pace of decline in Perth slowed.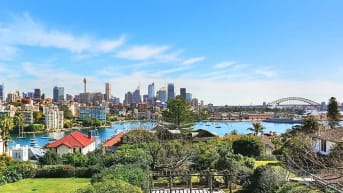 The latest short-term figures are not necessarily definitive. The Reserve Bank of Australia last month singled out CoreLogic, saying it had 'overstated' price growth in Sydney and Melbourne. Figures from rival data provider SQM Research for the three months to 13 September show a more moderate picture, with Sydney houses unchanged and units up 1.1 per cent.
While the numbers for the first two weeks of spring, suggest buyers are making use of record low borrowing costs – after the Reserve Bank cut the benchmark cash rate to 1.5 per cent in August – to chase housing stock levels that are picking up.
Recent evidence, such as midweek auctions this week in Sydney, certainly indicate a booming market. Two thirds of properties listed for auctions on Tuesday sold before the night and the rest were cleared out in under an hour.
An eastern suburbs couple secured a three-bedroom apartment at 42 New Beach Road in Darling Point for $2.425 million for their children. The reserve was set at $1.9 million and the apartment had no views at all.
"There is a little more evidence the inner ring is running faster than what we expected," SQM director Louis Christopher said. "We think the inner ring is running very hot."
But outside the city's inner suburban areas, the market was slower, Mr Christopher said.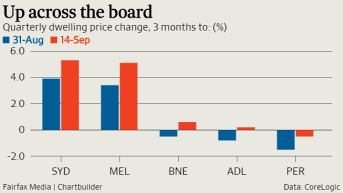 "They are two contrasting markets," he said.
In Melbourne, houses have risen 4.3 per cent over the three months to 13 September while units have shed 0.5 per cent in value.
That was a likely reflection of concerns about oversupply of apartments in the Victorian capital, Mr Christopher said.
Only about 150,000 to 165,000 dwellings would be needed as population growth falls, against a supply of 214,000 by 2017, consultancy BIS Shrapnel said on Wednesday.
​"There will be oversupply in all cities except for Sydney. The pain will really be felt in 2017 and 2018," BIS managing director Robert Mellor said.
Source: https://www.afr.com/real-estate/residential/nsw/sydney-melbourne-property-prices-up-another-5pc-corelogic-says-20160914-grgcgr#ixzz4KI3zT9mq