澳洲"最具持續性"屋苑本月正式開始發售
澳洲, 墨爾本
The first lots in a new housing estate in Melbourne's south-east that claims to be the country's most energy and water efficient will be offered for sale this month by Villawood Properties and South East Water.
The private developer and state utility have collaborated on Aquarevo, a $260 million project that will transform a 42-hectare decommissioned water purification plant in Lyndhurst, about 35 kilometres from the city, into a 460-lot development.
Each house built on the estate will use rainwater and high-quality recycled sewerage water to reduce demand for drinking water by up to 70 per cent – the equivalent of 1.2 million showers – while energy consumption will be reduced through solar panelling on the roof.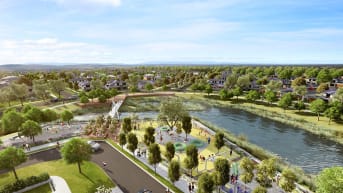 In addition all homes will be built with the capability to be connected to new rechargeable battery technologies and with recharge points for electric cars.
Villawood director Rory Costelloe said the water and energy initiatives being used at Aquarevo could be replicated at other developments including in more remote locations.
"We believe that this project will serve as a standout example of effective collaboration between the government and the private sector," he said.
Population growth
The Aquarevo Discovery Centre will be opened on Wednesday by Victorian Water Minister Lisa Neville with the first sales of about 50 lots to occur before the end of the month. House and land packages will start from about $500,000.
"We all need to reduce our reliance on drinking water, particularly as we deal with the challenges of population growth and climate change into the future," Ms Neville said.
The estate will include an onsite water recycling plant which will treat wastewater from homes and return it for use in toilets and for things like watering gardens and washing cars.
Each home will be fitted with a smart rainwater storage tank that will gather data from the Bureau of Meteorology and decide if rainwater should be released if the tank is near capacity and a rainfall event is expected. Another device will convert rainwater into heated water for use in showers, baths and laundries.
Homeowners will be able to monitor their water and energy usage via a wall-mounted device developed by South East Water and remotely via a smartphone app, allowing them to visualise usage patterns and adjust their behaviour.
Kevin Hutchings, managing director of South East Water, said rather than selling the site the utility had chosen to partner with a developer that had the same passion for industry-leading water sustainability technologies within a residential setting.
"We're excited about what this means for our customers and for the broader water industry," he said.
來源: https://www.afr.com/real-estate/residential/vic/australias-most-sustainable-housing-estate-launched-20161115-gspiiy