澳洲嬰兒奶粉公司 Bellamy 全年盈利增長三倍
澳洲
Organic infant formula maker Bellamy's Australia has more than tripled its full year profit to $38.3 million.
The company's revenue for the 12 months to June 30 climbed 95 per cent to $244.6 million as sales from China and Hong Kong surged 331 per cent to $62.1 million. Australian sales rose 67 per cent to $178.6 million.
A price increase in Australian in December 2015 helped Bellamy's boost its gross profit margin from 32.9 per cent in 2015 to 45.7 per cent.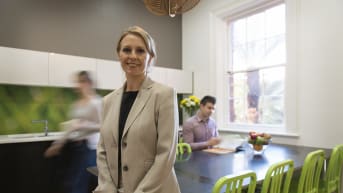 The company declared a final dividend of 7.8¢ was declared, up 173 per cent on the prior year.
Bellamy's did not provide specific guidance, but said it plans to invest $15-20 million in its product, people, marketing and promotional activities. It will also expand its manufacturing capacity in order to boost its penetration in the Australian and Chinese markets.
Bellamy's has become one of the market's darling stocks in recent years and strong sales of its products to China has helped the stock surge almost 200 per cent.
Chief executive Laura McBain said regulatory changes in China in early 2016 to improve product registration rules for infant formula should actually help the company.
"We have a positive view of the regulatory changes announced and believe they will further strengthen Bellamy's growth opportunities in China where the Bellamy's brand and our trusted, safe, organic products are highly valued by consumers," she said.
Ms McBain said that the investments made in 2017 would "build strategic platforms for long-term sustainable growth for shareholders beyond FY17".
More to come
來源: https://www.afr.com/business/agriculture/bellamys-australia-triples-full-year-profit-20160819-gqw7l0#ixzz4HkUkTbXC