澳洲失業率跌至 5.7%
a surprisingly large surge in part-time work saw the jobless rate match the lowest level in almost three years last month, but most analysts warned there are still signs of weakness in the labour market.
In what is the biggest increase in four month, employment gained 26,200, or more than twice what was forecast, from June, when it rose by a revised 10,800 jobs, the Australian Bureau of Statistics said on Thursday.
The jobless rate edged down to 5.7 per cent from 5.8 per cent, equalling the lowest since September 2013. Economists had tipped an unchanged rate at 5.8 per cent.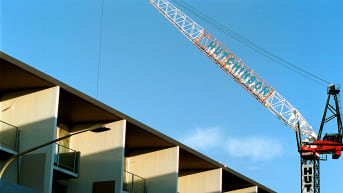 Better-than-anticipated jobs data supports those who argue the economy doesn't need any more official Reserve Bank of Australia interest rate cuts.
Traders pushed the dollar to as much as US77.19¢ from around US76.56¢.
However, questions have been raised about whether the figures are as strong as the headline numbers would suggest.
Full-time work decreased by 45,400 and part-time employment surged by a staggering 71,600 in one month alone, prompting some analysts to once again question the reliability of the short-term changes.
"Labour force data for July showed continued rotation toward robust part-time jobs growth, which is helping contain headline unemployment," said Morgan Stanley economist Daniel Blake.
"However, youth and underemployment remains high and growth in hours worked has slipped further – suggesting persistent income and disinflation challenges."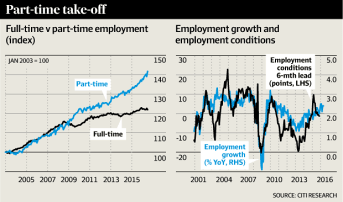 Longer-term trends confirm the labour market has weakened this year compared to 2015.
In the first seven months of 2016, some 72,000 new jobs have been created, which was less than half the 150,000 in the same period last year.
Full-time jobs have fallen almost 65,000 so far this year, compared to an increase of almost 90,000 in the first seven months of 2015.
The figures are consistent with weak wages growth and cost cutting by companies, which remain reluctant to ramp up investment and hiring on a weak domestic growth outlook.
"The election would have played a significant part in the pullback in hiring momentum over the first half of the year," said Savanth Sebastian, an economist at CommSec.
"The hope would be that now the election is out of the way consumers and businesses will go back to spending, investing and hiring – particularly given the ultra-low interest rates on offer and significant improvements in the household budget."
State by state, differences continue between the property-boom states and resources centres.
NSW's jobless rate improved to 5.2 per cent, Victoria increased slightly to 5.9 per cent and in Queensland is at 6.1 per cent.
In WA, the rate lifted above the national average to 6.3 per cent.
來源: https://www.afr.com/news/economy/monetary-policy/jobless-rate-eases-to-57pc-in-july-20160818-gqvczi#ixzz4HkKyKAMv