利澳酒店董事長呂強光 購入墨爾本 Southbank 埃克森美孚總部辦工大樓
澳洲, 墨爾本
In a sign of the times, a Macau casino king has emerged as the buyer for energy giant's ExxonMobil's $160 million headquarters in Melbourne's Southbank.
Mr Loi Keong Kuong, the owner of the Rio Casino in Macau, is understood to be the buyer of the prominent waterside office tower.
The casino king has made a series of recent property investments in Singapore and has been a bidder on other Melbourne assets.
The US energy giant began moves to sell its Southbank headquarters in June, appointing JLL's James Kaufman, Langton McHarg, and David Bowden to find a buyer.
The 22,000-square-metre office building at 12 Riverside Quay is one of Southbank's most prized assets, sitting on a large site overlooking the Yarra River.
Once known as the Esso headquarters, the tower was designed by Peddle Thorp and built in 1995.
It features a curtain wall of chrome and tinted glass, with distinctive curved sections. Its podium includes a large rainforest atrium.
The deal was negotiated on the buy side by Melbourne-educated Isabella Tse, who now leads property investment firm Reliance Future, based in Hong Kong.
Much of the firm's business has involved residential investment and it has now expanded into major commercial deals.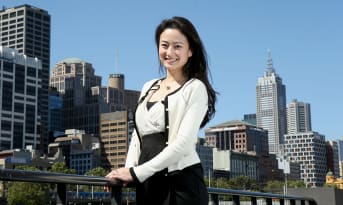 "It's a signature Melbourne building," Ms Tse told The Australian Financial Review.
The ExxonMobil building stands opposite the popular Southbank pedestrian bridge – including the unique floating Ponyfish Island at its base – which links the precinct over the river back into the CBD.The 20-storey office tower is still mostly occupied by the multinational energy giant, which is expected to retain a short-term lease as part of the deal with Mr Loi.
The US energy giant will look to take up a new tenancy of around 8000 square metres elsewhere and is looking at a number of options in Docklands, including a Mirvac development on Collins Street.
來源: https://www.afr.com/real-estate/macau-casino-king-loi-snaps-up-exxonmobil-hq-20161212-gt9bqe#ixzz4UFa4UPbp