Victorians were the lucky recipients of a 22.4 per cent rise in the total value of their properties over the past two years and, over a 10-year period, the homes of a select few have trebled, according to the state's Valuer-General.
Every two years the valuer-general takes a snapshot of property values across the state, which are then used by local governments to calculate rates and land taxes.
It's likely that house prices will continue rising in 2016, as improved affordability stimulates a surge in market confidence for both buyers and sellers.
Valuation figures released on Thursday show that over the past decade house values in Melbourne's eastern suburbs have trebled, particularly in Boroondara, Whitehorse and Monash councils where the total value of all residences rose between 160 and 200 per cent over 10 years.
They were also the suburbs where values rose most over the past two years. "Monash topped the scales at 39 per cent. In any terms that is a big increase," valuer-general Robert Marsh said.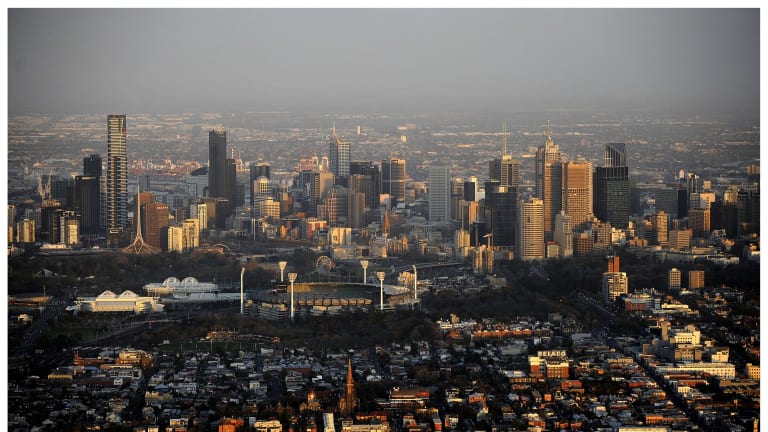 Booming eastern suburbs prices have been attributed to the area's popularity with Asian buyers and zoning reforms that have unleashed a wave of apartment and townhouse developments.
Outside the city, the value of coastal and holiday homes have stagnated.
The total value of all Victorian property has increased 20 per cent to $1.87 trillion since the last assessment, on the back of a building boom boosting the number of rateable properties and a significant rise in the values of existing ones, Mr Marsh said.
"In my time, that is a record increase between revaluations," the valuer-general, who has helped oversee 12 years of revaluations, said.
The smallest sized property to be valued was an advertising display case in Melbourne's CBD and the largest a grazing farm near Mildura.
Inner-city commercial property values increased along with residential.
Melbourne, Port Phillip, Yarra, Stonnington, Bayside, Whitehorse, Manningham and Boroondara saw rises between 14 and 25 per cent.
"A large amount of this increase … was due to mixed-use developments in high-density precincts," Mr Marsh said.
The total market value of industrial property assessed rose 22.5 per cent, the figures show.
Farm values, particularly in cropping and grazing areas in the state's north, had improved but values dropped sharply in municipalities like Glenelg, Moyne, Corangamite and Baw Baw following the collapse of timber plantation ventures, wiped out by the global financial crisis.
Land controlled by defunct investments schemes like Timbercorp and Great Southern Plantations has still not recovered, particularly if it needed to be cleared and returned to pasture.
"The cost of remediating that land has been more than the land was worth," he said. "It was an opportunity for young, entry-level farmers to get a block if they could get access to a dozer and ripper."
Farm values in the City of Melton, which borders the city's growth zone, also shot up over the two-year period. "That's what [land] speculation looks like," Mr Marsh said.
The volatility in milk prices after the Murray Goulburn meltdown had yet to manifest itself in distressed sales from dairy farmers, he said.
With zoning changes, high migration, interest rates low and a further cut expected, "there's every reason, if you're a betting man, to expect it [value rises] to continue", Mr Marsh said.
Collectively, Victoria's councils generate $8.4 billion in revenue of which rates and charges – set by the valuations – make up about $5.1 billion (61 per cent).
Source: https://www.smh.com.au/business/companies/property-values-treble-over-a-decade-in-melbournes-eastern-suburbs-20160728-gqg0tm.html