買賣方的澳洲物業指南
Stephanie Hogan is gearing up again. She and partner Ben have tried – and failed – to buy a family house in Bayside Melbourne five times since March when Hogan sold her two-bedroom unit in Richmond.
Competition has been fierce over a winter in which stock levels all but dried up
"When we started looking, there were a lot more properties and we were more picky," she says. "But in winter there was nothing on the market."
That, at least, is getting better, with the number of new sales listings picking up in Sandringham (July median price $1,525,000) and Hampton ($1,775,000), where Hogan has been looking.
"In the last two weeks there's been a lot coming on," she says. "We're starting to notice it picking up."
Advertisement
This week, for example, the number of auctions nationwide is up 10 per cent on last week to 1,622, CoreLogic figures show. Auctions are up in Melbourne, Brisbane and Adelaide, while in Sydney they are down slightly. And compared with the equivalent week last year – when the country had 2,248 auctions – stock levels are still low.
Competition at all levels
Hogan is giving it another go this weekend, but is still expecting it to be tough.
"It's hard no matter what bracket you're in," she says. "There's competition at every level of the market."
Buyers across Australia are facing stiff competition this spring. It's the biggest real estate season of any year, when vendors' gardens look their best and buyers who want to be in a new home for the coming school or work year get serious. There's always a boost to the market at this time of year, as owners who have been preparing their homes for sale come to market and buyers who have hibernating come out looking with renewed vigour.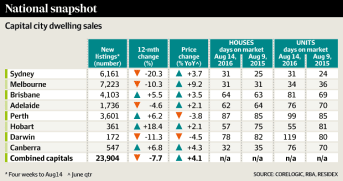 While banks have tightened lending criteria, especially to investors, buyers are now competing just after the Reserve Bank has declared the risk of a property bubble over and cut interest rates to a new record low cash rate of 1.5 per cent. As a result, it's even cheaper for investors who do qualify for loans to borrow for and buy real estate.
The median time on market – the number of days between when a home is first listed and the day the contract is signed – has widened to 31 for both houses and apartments in Sydney, compared with 25 days for houses and 24 for apartments in the first half of August last year. The average discount between original asking price and contract price has also widened slightly, CoreLogic figures show.
"It's not frantic," says Sydney buyers' agent Rich Harvey. "It was 25 days – that was the height of the boom. A property would list and be sold within a week. It's natural that that phenomenal, white-hot market is gone. But we are still in an environment of competitive buying. Buyers in Sydney don't have the luxury of time to delay as they wait for the perfect property."
Move quickly
He advises buyers to "jump" – "Know what you want and when you see it, move quickly."
Ian Dawson, a senior sales consultant at Callagher estate agent in Sydney's inner west, agrees.
"The reality is we're not a market that's about to go backwards," says Dawson, who covers suburbs such as Leichhardt, Annandale and Camperdown. "While you may spend a further $5,000, $10,000 or even $20,000 than you intended, you will make that back in the first six months of ownership. If you wait another six months, the price will have gone up by another $50,000."
In Melbourne, Hogan says it will pay to be disciplined. Even though stock levels will be low and competition high, she doesn't intend to get carried away.
"We're not the type that are going to fall in love with a house and pay too much money for it," she says. "Nothing's going to be perfect."
Buyers, even ones who are prepared to wait, need to have finances in order – and use a broker to advise them of rapidly changing loan policies by banks – so they can bid when they come across a suitable property.
Look harder
They also need to be flexible, says Jenny Dwyer, of agency hockingstuart Sandringham.
"Know what you are looking for and try not to look at just one postcode, be a bit open to different areas," she says.
Buyers also need to look harder, especially in Sydney, where new residential listings were down 11.2 per cent, year on year for the first seven months of 2016.
"A large amount of property is off-market," says Harvey.
Buyers' agents often have connections with agents and can open up channels to those unlisted properties, says Harvey, who is also president of the Real Estate Buyers Agents Association of Australia.
"It gives buyers more choice to see property they wouldn't otherwise see," he says.
Vendors have to work it
Despite low stock levels, life is not necessarily easier for vendors.
Louise Pfeiffer is auctioning her four-bedroom family home in Port Melbourne next month. She tried to sell it two years ago, but pulled the Dunstan Parade house from the market after getting an offer of only $1.35 million and rented it out instead. Now, with interest rates low and election uncertainty over, she believes it's a good time to sell.
She says it's easier to sell with more homes on the market as buyers have a better market-based sense of a property's worth. The last time she tried to sell, in autumn 2014, no comparable properties were selling in her area. This time around, two comparable ones have listed and will go to auction ahead of her house on September 17.
"They will go to auction before my house and will hopefully set a benchmark," Pfeiffer says.
Vendors do need to compete. Precisely because prices are high, stock levels are low and competition between buyers is strong, many would-be buyers are opting out and choosing to renovate and extend their existing homes. Vendors have to present an attractive enough dwelling to bring those buyers through the door.
"There are a lot of passive buyers in the market," Dawson says. "We need to make sure everybody knows your house is on the market. It's got to be marketed correctly."
Less time
In Melbourne, vendors need to get ready early. The Victorian spring market doesn't typically pick up until after the AFL Grand Final, which will be a week later this year, on October 1. Owners who would only get serious about selling after the footy final will have even less time and risk pushing their sale uncomfortably late, says Melbourne agent Greg Hocking.
"I sold a property on Christmas Eve last year," he says. "I remember sitting at the kitchen bench at 5pm on Christmas Eve, signing a contract."
But the challenge is greater for buyers this spring, especially in Sydney, even with the likely higher levels of stock.
"Don't just be lured by the honeymoon rate, or the interest rate," Harvey says. "Some banks may have loans that lend you more – for example, one bank might lend $500,000 and their interest rates is 3.95 per cent, but another will lend $600,000 and their rate is 4.05 per cent. Getting that better result probably puts you into an area that has better long-term growth, and paying that rate might be worth it."
While she is prepared to wait, even Hogan feels under pressure to seal a deal before Christmas.
"The longer you wait, the more the market moves," she says. "It's more of a risk to be out of the market than in the market."
And this sums it up.
"The pendulum hasn't fully swung back to a buyer's market yet," Harvey says.
Source: https://www.afr.com/real-estate/residential/nsw/spring-property-guide-for-buyers-and-sellers-20160816-gqtfrw#ixzz4I1dntP3v