住在墨爾本高層住宅的好處
Despite my acrophobia I have fallen for the charms of the 19th floor.
Everyone has that one friend who is scared of heights, and in the case of my extended circle, I am that friend.
Recently, while on a weekend road trip, my friends and I began driving up a hill to Arthur's Seat outside of Melbourne; not exactly Everest, but still steep enough for me to imagine the car flipping over backwards like something out of a Hanna Barbera cartoon and plummeting over the edge of the road.
After a few minutes, I piped up quietly from the back seat: "So is now a good time for me to tell you all about my fear of heights?" If there'd been a record playing in the car, its needle would have been ripped from the groove.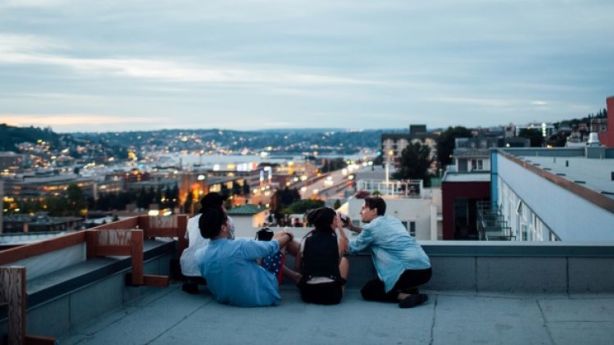 Yes, I'm one of those people who struggles to go up ladders, breaks out in a cold sweat at the distant memory of the MCG's Southern Stand, and who even on occasion gets nervous standing on my bed to change a light bulb. On a holiday, under extreme duress, I once climbed a small mountain (a hill, really) with my family and "celebrated" reaching the summit by lying down and hugging the ground while whimpering softly.
With all that in mind, it may amuse you to know that – a year into my new inner-city digs – I am now a card-carrying member of the high-rise-living fan club.
I live with a friend on the 19th – NINETEENTH – floor of an apartment block in Melbourne's CBD. Not only that, but the 22nd floor features a very nice roof terrace with almost 360-degree views of the city and sea. A roof terrace that I have, with repeated exposure, been able to relax upon without screaming "OH MY GOD WE'RE ALL GOING TO DIE!"
Previously, the highest storey my rental dreams had reached was the second floor of a 1960s brick building that was so squat, it might as well have been the first floor; every single rental property after that was either ground or first floor. All the better to not (so my heights-fearing irrational mind figured) trip and fall to my death over the balcony.
Yet, since I was installed on the 19th floor in autumn of 2015, I have come to appreciate – nay, love – living at this height, and not just because it means I'm now less likely to have a breakdown during social events at 50 metres above sea level or higher.
There's something meditative about it (occasional bursts of noise as the fires of industry churn on around us notwithstanding), as though we live above the toil and trouble of modern life. If it's belting down rain on the ground, from up here it swirls around in the air like a Van Gogh painting (though more than once I have been caught out by this trickery, thinking it was just "spitting a bit" outside when it was, in fact, a downpour).
When I moved in and the flood of "city skyline" Instagram posts began, one acquaintance remarked ruefully that I would be sick of it within a week. We're now a year and a bit in, and from up here the surrounding city views still find ways to delight me.
Since recently, a community of currawongs has been nesting alongside the blackbirds and lorikeets in the trees that line the street below, and the acoustics of the giant buildings and wind tunnels mean that every evening we enjoy a symphony of birdsong louder than anything I ever heard on the edge of the bush. My housemate and I have catalogued the various dogs we meet in the elevator and lobby, as well as peak times for potential pats.
Like any form of communal living, the high-rise isn't immune to disputes between neighbours (or entire floors), and there are times when I wouldn't mind being able to walk out the door and smell grass or sit under a tree without having to jump on a tram. Art is full of cautionary tales about my living situation, from the class war and cannibalism of J.G. Ballard's High Rise to the classic of disaster cinema, The Towering Inferno. There haven't been many poems written about the beauty of living near the clouds.
But when the rental landscape in Melbourne dictates that I might have to pay $250 or more a week to live in a squalid share-house on the city's outer rim, paying around the same to live in a fancy new building that feels like an off-world colony seems like a pretty good deal.
It's quite a change from my last home, living with family in Mount Dandenong where mice, snakes and bushfires were everyday concerns; here, we might occasionally get a visit from a passing moth. But though I miss many things about the country, other wonders have taken their place. I can't see the stars here, so now instead of shooting stars I make my wishes when I see neighbouring skyscraper lights turn on, floor by floor.
來源: https://www.domain.com.au/living/the-surprising-thing-i-learnt-when-i-moved-into-a-high-rise-apartment-20160803-gqjuys/